The King's Mentoring Group
Why does the Dynamic Mentoring Tech use a mentorship model? We call it The King's Men Mentoring Group, well it's a proven intervention that works. The research is clear. It shows the positive impact mentoring has on young people.
Mentoring plays a positive role for students who may be falling off track.
Students who meet regularly with mentors are 52 percent less likely than their peers to skip a day of school and 37 percent less likely to skip a class. (Public/Private Ventures study of Big Brothers Big Sisters)
Young adults who face an opportunity gap but have a mentor are 55 percent more likely to be enrolled in college than those who did not have a mentor. (The Mentoring Effect, 2014)
In addition to better school attendance and a better chance of going on to higher education, mentored youth maintain better attitudes toward school. (The Role of Risk, 2013)
Beyond the classroom, at-risk youth with mentors were found to be:
78% more likely to volunteer regularly.
90% more interested in becoming a mentor themselves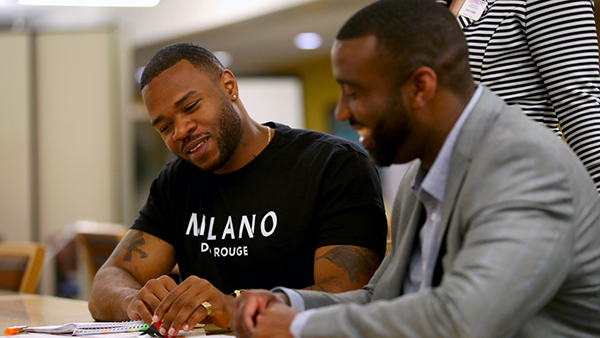 It is written in Malachi 4:6, He will turn the hearts of the fathers to their children, and the hearts of the children to their fathers [a reconciliation produced by repentance], so that I will not come and strike the land with a curse [of complete destruction]."
GLORY HAS A LOOK, LET'S RETURN TO THAT!
Today the world is literally out of order and within chaos in every area of society. The Dynamic Mentoring tech has the KEYS and the SOLUTION to this devastating circumstance, "return the hearts of the children back to the father, and the heart of the father back to the children."
What is evident everywhere GLOBALLY is the lack of A KINGDOM MAN or KINGDOM WOMEN, the lack the influence of God's Kingdom – its culture, citizenship, principles, government, and resources. Our mentoring group is the conduit and peritoneum to lead many to a lifestyle of repentance, obedience, consistency, favor and exploration. Our focus is to develop Kingdom minded citizens to help our member discover their true purposes, in hopes impacting the world for the Kingdom of God. This is the heart of Dynamic Mentoring Tech programming – Build. Mold. Inspire!
VIP MEMBERSHIPS ARE NOW AVAILABLE!